ATV Bot is exactly what it's name says: an All Terrain Vehicle.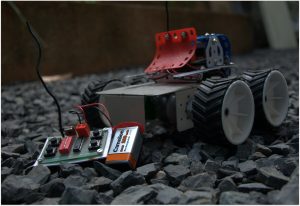 Equipped with 4 powerful 500 rpm DC geared motors and a strong powder coated metallic chassis, this bot can even race across gravel! One of it's best features is that it uses an RF (radio frequency) module and hence allows you to control it from a distance of more than 50 metres. A 12 volt Lithium-ion rechargeable battery ensures extended battery life and recharge after 3 days of usage.
And guess what? It's even got a Roll Cage!
The roll cage, made from metal Mechanix parts, prevents damage that could be caused to any delicate hardware on board like the RF module, battery, etc.
Here's a complete list of all the components used to make the ATV Bot:
12v, 1 amp, Lithium-ion rechargeable battery (For the ATV Bot's receiver module)
9v, 200 milliamp, Ni-MH rechargeable battery (For the ATV Bot's transmitter module)
500 rpm DC geared motors (4 nos.)
Powder coated metallic chassis

Tracked wheels for DC motors (4 nos.)
ATV Bot in action: