Once again, this summer, I interned for a month at Inventrom Robotics, an electronic technology start-up based in Goa with primary focus on Robotics and Wireless devices.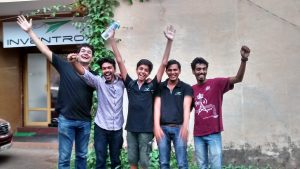 I joined at a time when their IOT (Internet Of Things) product 'Netplug' was in the R&D phase. Netplug is a single unit which can be connected to any physical device to control it over the internet.
My task was to integrate it with RGB LED lighting (multicoloured lights).
This involved writing Python scripts, on a Raspberry Pi, to automatically run through a cycle of 6 colours at various speeds. Depending on the area of usage, this could be used as mood lighting in bedrooms & lounges, or to reflect the energetic atmosphere of party zones, etc.
While I worked on the lighting system, my colleague Haston was simultaneously creating a backend program and a webpage for Netplug. Invariably, there would be conflicts between systems and processes. In such a case, we had to alert each other before rebooting the system or stopping backend programs.
Other quick jobs also included:
Packing kits for workshops
Assisting during workshops
Testing the 'Chicken Smasher' app for bugs
I believe it is essential for everyone to take up at least a part-time summer job to hone one's skills on one's subject of interest. This lets you spend your vacation time creatively, while helping you understand non-technical aspects of running a company like, time management, ensuring deadlines are met, keeping databases of contacts for future use, developing people skills, etc.
Working at Inventrom was truly a rich, educational experience which I will never forget.